Show your family OS support with Android Family Decals
The Evil Thinktank has churned out an Android family set of decals for your car, bike, or anywhere else.
There's a standard bugdroid base for all with some modifications on height and shape. All in all a pretty cute little addition.
The designer states on twitter that there will be some more for infants, kitties and dogs soon enough.
The Android Family decals are available from Evil Think Tank for $10.61
Other options for Android Family Decals
There's also an Android father holding Android son's hand, which is pretty darn cute. It's 5″ wide x 4″ tall.
It retails for $9.00 and is currently available from the Evil Think Tank.
If you're more in the mood to showcase a cause, or that your child is Batman or the devil, there are also a variety of decals available for purchase from the site. Whether or not they fit your idea of the cute family category is up to you however.
Non Evil Think Tank Android Family decals
Over on Ebay there's a slightly more complete Android family Decal set, but you have to piece the family members together at about $2 a pop.
I'm not personally a fan of the mom/daughter Android lips on them as it looks like they've hussied up a bit for the decal shoot. Then again, I'm not a fan of white lipsticks.
RightToolUSA also has a mom, dad, 3-sons of varying sizes and Androdog for $29.99 which is getting a bit pricey for a sticker.
The last set I found comes from Etsy. The Droid family (priced 13.49 US.). For reasons I don't know evidently female Android family members must have evily slanted eyes. I'm not really getting the vibe on these things.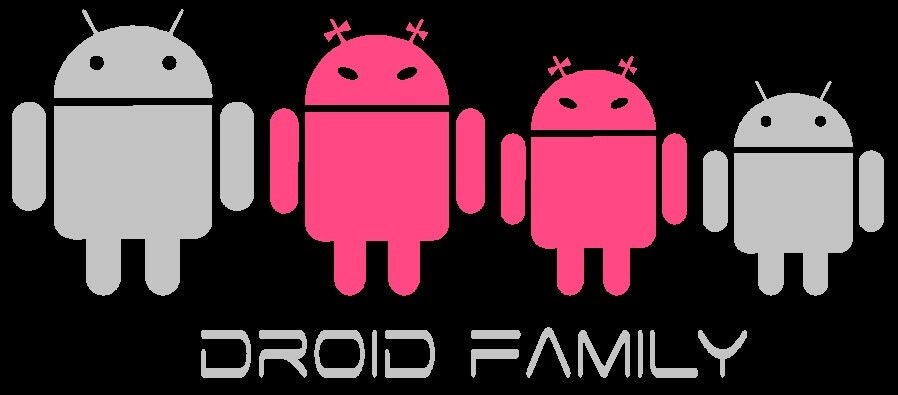 The decals claim to be silver and hot pink. I don't think silver translates too well to the small screen, so I'd imagine that sickly grey is probable silver in real life.